This post may contain affiliate links. Please review the full disclaimer.
What is Nervousness?
Nervousness is a state in which the nervous system reacts disproportionately to what seems to be natural stimulants when in an agitated state.
Drugs, though seemingly produce temporary relief, aggravates the nervous system and cause nervousness. Coffee, tobacco, alcoholic beverages, are among the foremost stimulants of nervousness.
To combat nervousness, develop a healthy habit of:
*Eating a decent breakfast to elude hypoglycemia.
*Eating at regular hours. Don't skip meals.
*Getting adequate rest.
*Exercising regularly.
Foods to Increase to Allay Nervousness
Passion Fruit
Brazil Nut
Avocado
Apricot
Lettuce
Wheat germ
Cashew
Pine Nuts
Almond
Honey
Oats
Sunflower Seeds
Green Pea
Pollen
Walnut
Foods to Decrease to Avoid Nervousness
Caffeine: Irritates the nervous system and incites nervousness.
Alcoholic Beverages:
Alcoholic beverages contain ethylic alcohol which is harmful to nerve cells.
White Sugar: 
Once nervousness is caused by hypoglycemia, using a small amount of sugar might cause a calming effect. However,
too much produces hyperactivity and nervousness.
Download the PDF: Nervousness – Foods For The Nervous System
[amd-yrecipe-recipe:2]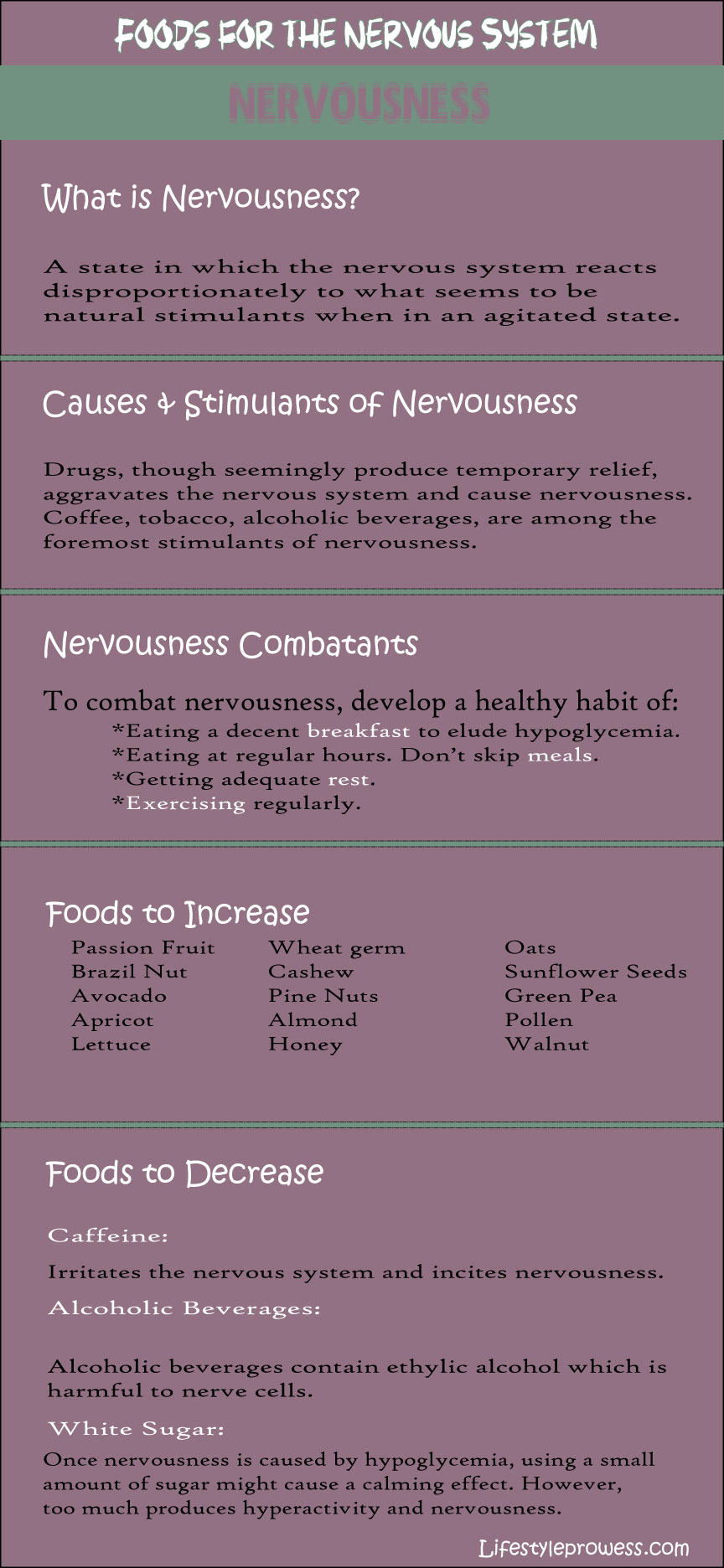 ---
This post contains affiliate links. You can opt to purchase the recommended products through our affiliate links. When you do, Lifestyle Prowess receives a small commission that is later used to maintain the website and produce informative articles, infographics, and other content types for you to benefit. If you do not wish to use our affiliate links, we understand. Thank you…