This post may contain affiliate links. Please review the full disclaimer.
Children's Books
Isn't it a thrilling experience to watch your toddler take their first step or lightly pronounce 'ma-ma'? Truly a remarkable experience! What about your children's efforts to read? What are your sentiments when they quickly devour a reading material without little or no help? Every day is an adventure in your kid's life you don't want to miss; there is never a dull moment.
There are so many things to deduce from reading, including life's lessons. Why not help your children to grasp the importance of life or develop wonderful qualities that will help them to become extraordinary individuals?
Here are five awesome reading books that will have a tremendous and positive impact on your children's upbringing.
I Love To Keep My Room Clean
Do you wish to teach your children a lesson in personal hygiene and cleanliness? Have them follow the
little bunny, Jimmy, and his brother in their quest to keep their rooms clean. "I Love To Keep My Room Clean", written by Shelley Admont, provides pictorial representations to underscore how you can impress upon your children's heart the need to clean their rooms and clear their playthings. Why choose to run with a mess-making kid when you can help them become organized? A child that cleans up affords you more time to get important things done. This book is ideal for beginners and storytelling along the bedside.
The Snail Who Forgot the Mail
Sigal Adler teaches your children patience in her picture book, "The Snail Who Forgot the Mail". Do you frequently deal with tantrums because your child just cannot wait for something? Your entire family can learn a lesson or two from "The Snail Who Forgot the Mail". Patience is a virtue. Sadly, most children lack that terribly. They want everything 'here and now'. It's time to stop them in their tracks and help them to demonstrate patience in everything they do.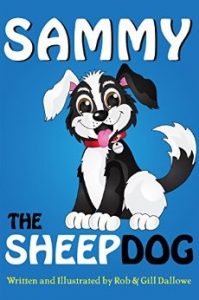 To supplement, "The "Snail Who Forgot The Mail" teaches children how to cultivate a mild tempered spirit. Do you have a child who seemingly shouts about everything? Are they always in the state of a Grinch? Subsequent to being yelled at, the snail (as shown in the book), did not react harshly or got irate with the king. He maintained his ground. This book is perfect for children who aren't home-schooled. It's difficult to cope with those bullies and fellow school mates. Teach them how to deal with these situations without using their fist or fiery tongue. This book can be sourced on Amazon for your perusal.
Adventures of Sammy The Sheep Dog
Do your children have a passion for pictures and animal-focused books?
Why not have them join Sammy, a strikingly cute Border Collie pup, in his quest to find love and the perfect home? What solemn lesson can the "Adventures of Sammy The Sheep Dog" by Rob Dallowe teach your child?
Animals are abused on a grand scale yearly.
It's important that children learn to cultivate a love for animals, regardless of whose possession ownership falls. Through this picture book, your children will learn that the welfare of animals is important; they should be taken care of, not abused. Help them to develop a sense of responsibility for animals.
Terry Treetop Saves The Dolphin
The environment in which we cohabitate is vital for our survival.
Through this book, educate your child about the value of taking care of their environment. 'Terry Treetop Saves The Dolphin" by Tali Carmi, provides colorful illustrations, taking your child into a marine nature reserve, where a little dolphin was in dire distress.
Not only does this book create awareness in children regarding their environment, but it highlights the important role they play in taking care of animals, especially marine mammals.
On a grand scale, the environment is constantly at war with mankind, don't allow your children to join the ranks; help them to protect the things around them. Help them to protect their environment by reading this book with them.
Lily Lemon Blossom Welcome to Lily's Room
There are several lessons to deduce from this exquisitely illustrated book. Lily Lemon Blossom might ap
pear simple, but she's more than meets the eye. Carefully penned by Barbara Miller, this book underscores the adventures of a colorful little girl having the time of her life with friends. We all need
good associates, including your children. Help them to choose encouraging and moral upright friends. Affording them this knowledge will save them a great deal from making terrible decisions as they journey in life. The company we keep might be detrimental. Help them to learn how to choose wise and well-meaning friends.
Lily's room says a lot about her. A single glance of her room intimates how organized and clean she is. Wouldn't you want that for your children? Dig into this book of vibrant colors and poetic language to see how your children can learn.
Reading is not only fun and awesome, but it imparts valuable life's lessons and knowledge. What are your favorite books on life's lessons? Let me know in the comments.